Have you seen Betsy Bird's poll results for the Top 100 Picture Books on
A Fuse #8 Production
? Sure, everybody's seen them right! In case you missed it, or want to go back and check them out again, here's that link
Top 100 Picture Books.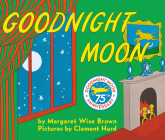 I can't believe with all the books on my bookshelf I don't have either of the top two voted classic. But thanks to
Jean Reidy
, it's now one down, one to go!
Margaret Wise Brown's
Goodnight Moon
is one the way to my studio. Thanks for the contest Jean.
Now, for the #1 ranked picture book
Where the Wild Things Are
. I had to check my bookshelf to make sure. Maybe I have a Scholastic paperback sandwiched somewhere between a couple of other titles. Maybe I forgot to file it alphabetically. Maybe I filed it with my autographed copies. (OK, now that's dreaming!) But alas, maybe I just check it out from the library for extended periods of time over and over. I mean I know the text by heart. I know all the images. But I don't have my own copy of
Maurice Sendak's
all time classic! That's just wrong. I guess know the next book I'm buying.